I enjoy cooking up dishes from many different cultures.  I am fascinated with the different spices that are use not only for taste but those that help with our overall health.  My favorite of all is turmeric which I have used for years now which you may already be familiar with. But did you know that spices are meant to be blended in order to have a greater impact on your health?  When combined they are easily absorbed by the body.  My studies in Ayurveda has helped me to understand this. Besides this, its fun to create dishes where you get to use fresh spices, grind them down yourself and create aromatic spice blends that'll satisfy your taste buds.  I've provided a recipe below for all Virginia This Morning CBS 6 viewers and my blog followers.  Let me know when you create this dish.  I'd like to see how it turns out for you.  Take a photo and tag me in your Instagram and Facebook post (my handle is @paulineStephens). You can email me as well and I will share your image online.  Make sure to title it Ayurveda Superfood.
In the dishes below, you can interchange the okra, chickpea/garbanzo beans or mushroom.  If you are going to combine these choose two.  I believe having too many foods that your body has to break down will slow down your digestion and cause fatigue.
When shopping I strongly encourage you to seek out organic spices and ingredients.  If budget is an issue, I always recommend shopping in the bulk section of your grocery stores.  This is the section of the store where you can purchase the exact amount that you need.  Bring your own bag/jar or use whats provided to fill up.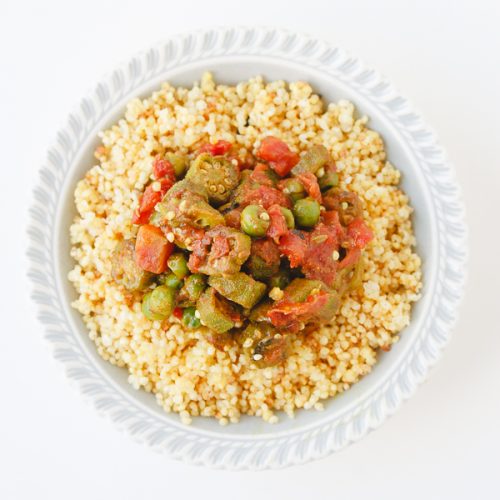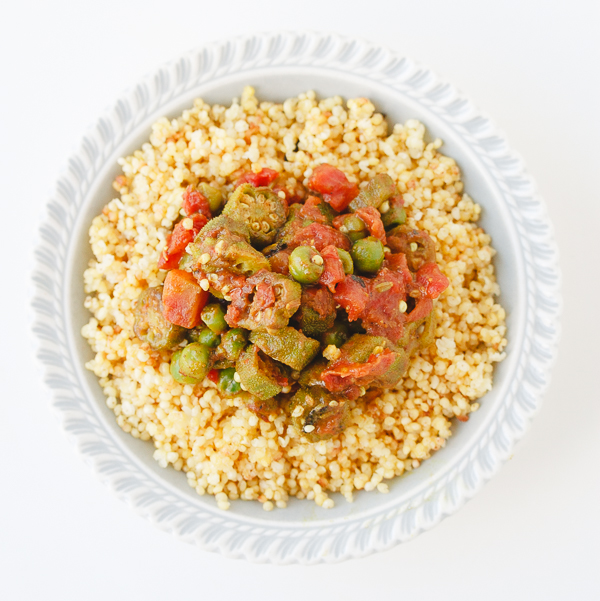 Okra Tikka Masala
I showcased three different types of Ayurvedic and Alkaline Superfood Bowls on Virginia This Morning CBS 6. The bowls consisted of either raw or cooked ingredients. On air, I demonstrated how to make the spices and Chicpea Tikka Masala. You can switch out your chickpea for okra and/or mushrooms or combine them all if you'd like! See the show here!

Ingredients
North India Spice Mix
1.5

tsp

Whole Chili Flakes

Toasted and ground

1.5

tsp

Whole Coriander

Toasted and ground

.5

tsp

Ground Black Pepper

1.5

tsp

Ground Cardamom

1

tsp

Ground Cinnamon

.5

tsp

Ground Cloves

1

tbsp

Ground Cumin

.5

tsp

Ground Nutmeg

2

tsp

Ground Turmeric
Tikka Masala
3/4

tbsp

Cold Pressed Cooking Oil

Olive or Grapeseed

3/4

cup

Coconut Milk

3

cloves

Fresh Garlic

1

Fresh Tomatoes

Roasted and Chopped

1/2

cup

Frozen Peas

1.5

cup

Okra, Chicpea OR Mushrooms

Chopped

3/4

cup

Vegetable Stock

3/4

cup

Tomato Sauce

1/2

tsp

Salt and Pepper

To Taste
Superfood Grains
1

cup

Millet or Quinoa

2

cups

Spring Water
Instructions
Spice Mix Blend
Place the whole red chili flakes and whole coriander in a skillet. For no more than 2 minutes keep it on a low heat and toast the pan until you smell the aroma of the spices. Once toasted, place the spices in a mortar and crush the spices together until they are fully grounded. Then add these spices with the others in a bowl and mix together. You can place them in an airtight jar until you are ready to use it.
Okra, Chicpea OR Mushroom Masala
Bring a large skillet to a medium heat and place in the olive oil or grapeseed oil. Give the oil less than a minute to heat up, then place your onions and garlic in the skillet. When golden brown, add your spices to cover your onions and garlic. Then add in your other ingredients leaving your okra, chickpeas OR mushrooms; and coconut until the end. If you want to kick up the spice/heat of the dish add one jalapeño, Thai green pepper or Jamaican scotch bonnet.
Superfood Grains
Rinse and drain your Millet or Quinoa. Then place in a pot with the water and bring to a medium boil. Watch it over the stove as these cook down very quickly. Add more water and turn if it dries out before it is soft. Taste and season with salt.
Recipe Notes