I cannot begin to tell you how much I enjoy fashion and especially winter fashion at Bryant Park during Christmas.  Christmas is considered a pagan holiday to many and for some its a time to celebrate the life of Jesus Christ.  Either way, I don't know anyone who doesn't take this time to spend with family.  It's hard to resist not loving the joy and cheer that comes with the holidays especially for the sake of children.  I don't like the capitalistic thought process around the holidays though.  I think it's unhealthy to put pressure on yourself to purchase lots of gifts for people in your life.  I think it's also unhealthy to teach children that the amount of gifts they will receive is contingent upon how well they behave.  To me that brings on a feeling of unworthiness if they don't get all the gifts they think they deserve.  Don't get me wrong, I believe in giving rewards for a job well done but I have witnessed families giving more gifts to one child over another and that brings on more damage to the child.  Teaching children to be on their best behavior throughout the year and showing them that this is a natural way of being is the healthiest way to be in my opinion.  I think rewarding children with experiences and outdoor adventures is priceless.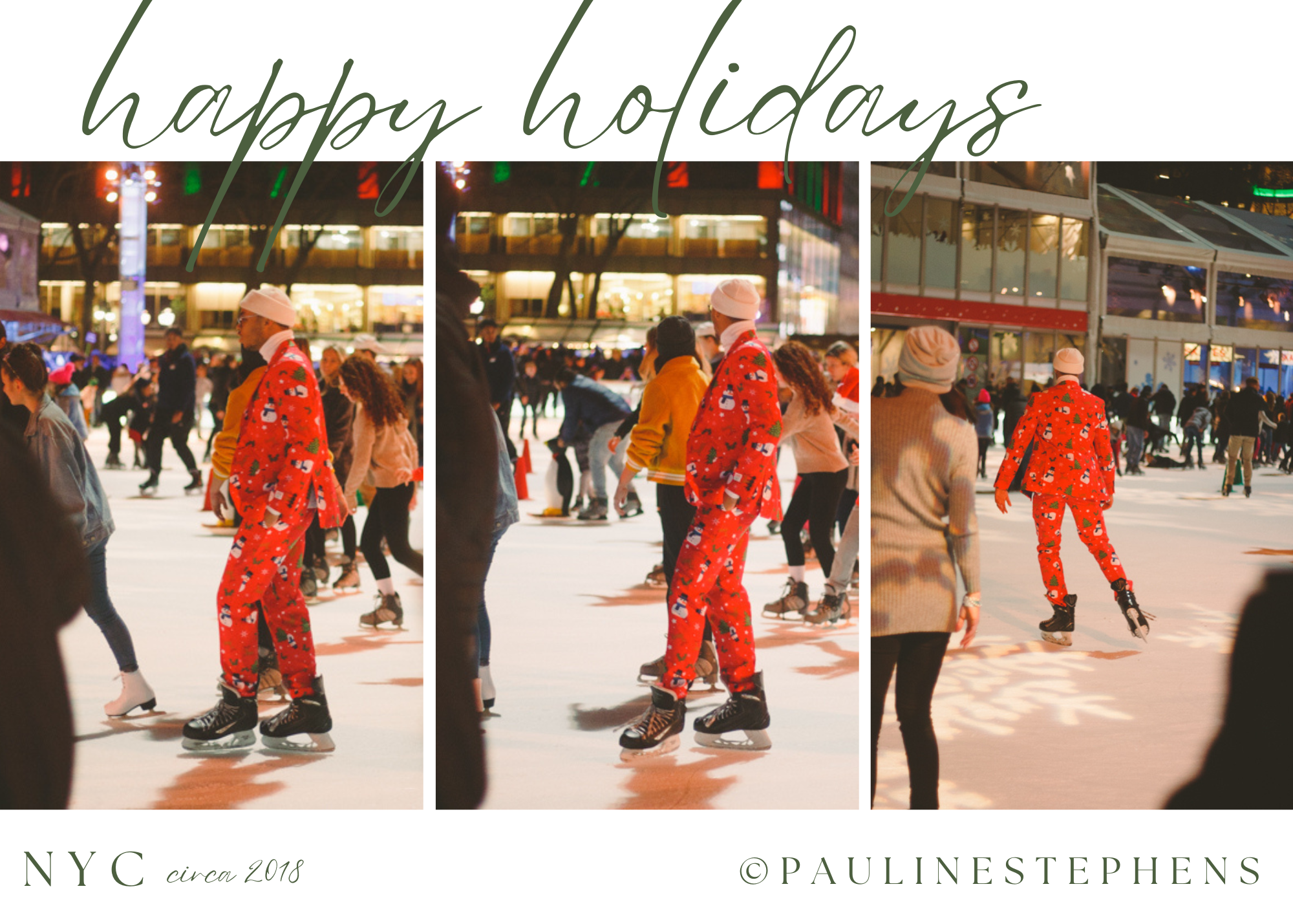 WINTER FASHION AT BRYANT PARK
Like most, during the pandemic which brought on a longer journey of grieving, I haven't been in the Christmas spirit and frankly didn't think I would be writing a post about it.   I  give credit to going through my files of photos I've kept in the vault until the day before Christmas to come up with an idea for this post.  The last time I gathered around a large crowd of people during the holiday was at Bryant Park in New York City.  I had a great time listening to the music coming through the speakers around the skating rink while everyone showed off their ice skating skills.  It was truly amazing to see everyone from different race and cultures come together to enjoy themselves during the holidays.  The past four years has been with my immediate family like most people around the world.  I'm interested to know who is getting back to doing the things they enjoy during the holidays and even throughout the year.  The month of December for me is a time of rest and moving slower after going full steam this past year of running a business in the middle of a pandemic.  Bryant Park shared the lighting of the tree online for everyone to see.  This post should gives you an idea of the excitement around this special occasion in one of the most beautiful cities in the world.  Enjoy it and have a Happy Holiday season with your loved one.
Happy Holidays to you and yours!