Happy Holidays to you and your family.   There was so much cheer and lots of photos I had in my camera roll prior to 2019 and pre-pandemic that I took during the holidays in NYC.  I decided today would be a good day to share my creative photography work with you.  In fact, I have a bunch of photos I've taken and have not posted so get ready for my photo share.  During the holidays, I enjoy taking in the beauty of decorations and my favorite place to go during this time has always been my home away from home; New York City.  I don't think any other city can compete with NYC's Christmas decor from the sky high Christmas trees, poinsettia plants carefully placed around the city, the luxurious lit garlands, red ribbons, fashion forward ice skaters and a luxury hotel doorman that matches your decor.  If you find one please let me know and I will visit.  In 2018, I pretty much was busy on the road as I traveled back and forth from Virginia and New York for training and business.  I was fortunate enough to have close friends and family who allowed me to stay with them for a few months while I completed more training in yoga and Ayurveda.  I was in the city so much during the day and nights and was able to take in the noise, laughter, entertainment, beauty and of course the lights.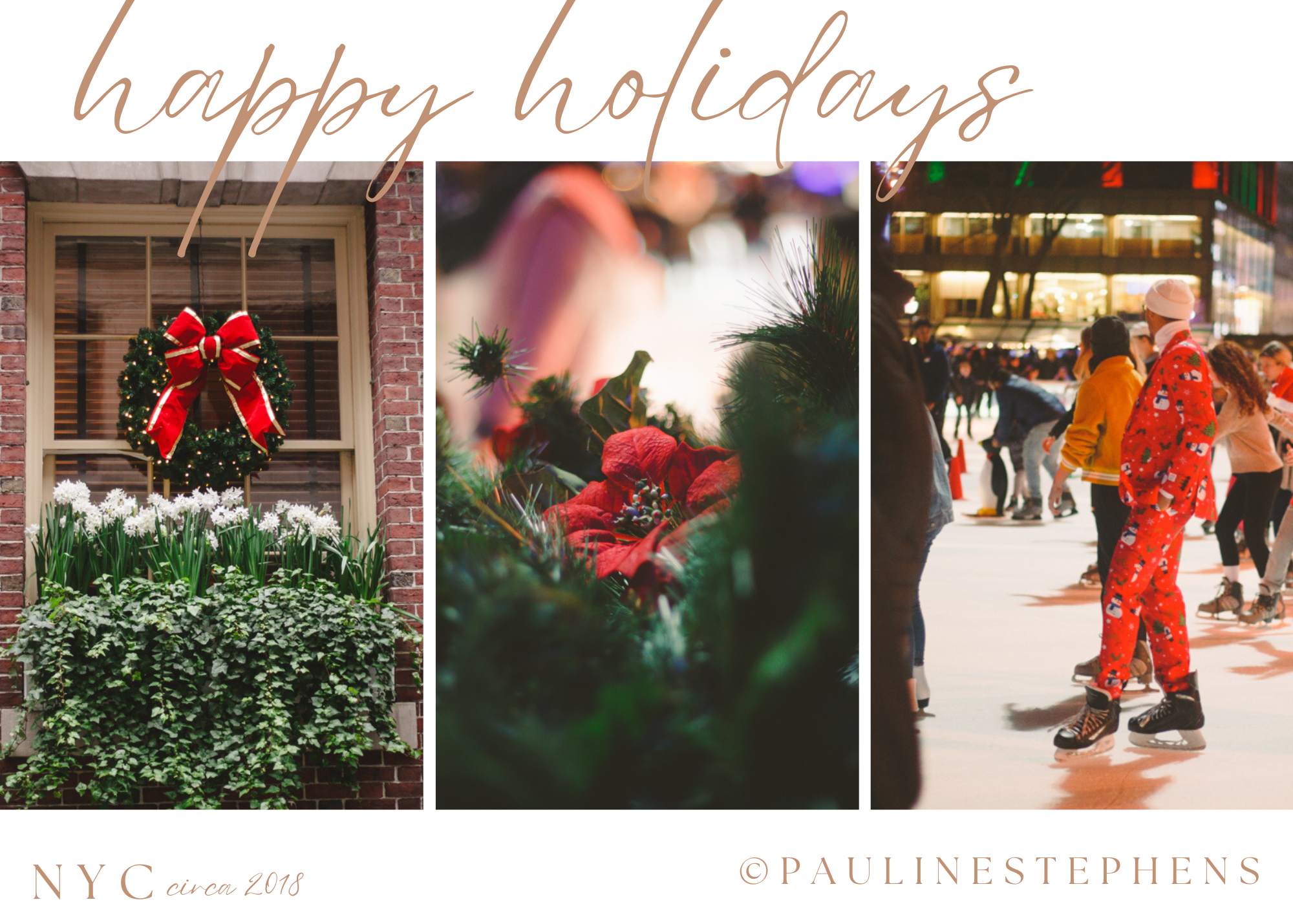 A BEAUTIFUL SITE TO SEE
Bryant Park in New York is a great place to visit during the holiday season.  There is a wonderful skating rink, restaurants and small business vendors to shop from.  The atmosphere is family friendly and there is something for everyone to do there.  Although I had a great support system in my training program, during one particular time in 2018, I was a little sad because I didn't have all of my family with me in New York during the holidays.  The feeling was different because I was used to traveling solo and being an entrepreneur can bring on a feeling of loneliness at times but this was an unfamiliar tug at my heartstring.  So much was going on around me. I was elevating in my skills, witnessing what mattered the most in my life, rediscovering myself, and experiencing changes in personal friendships and professional relationships.  There was so much change happening and I was walking it alone.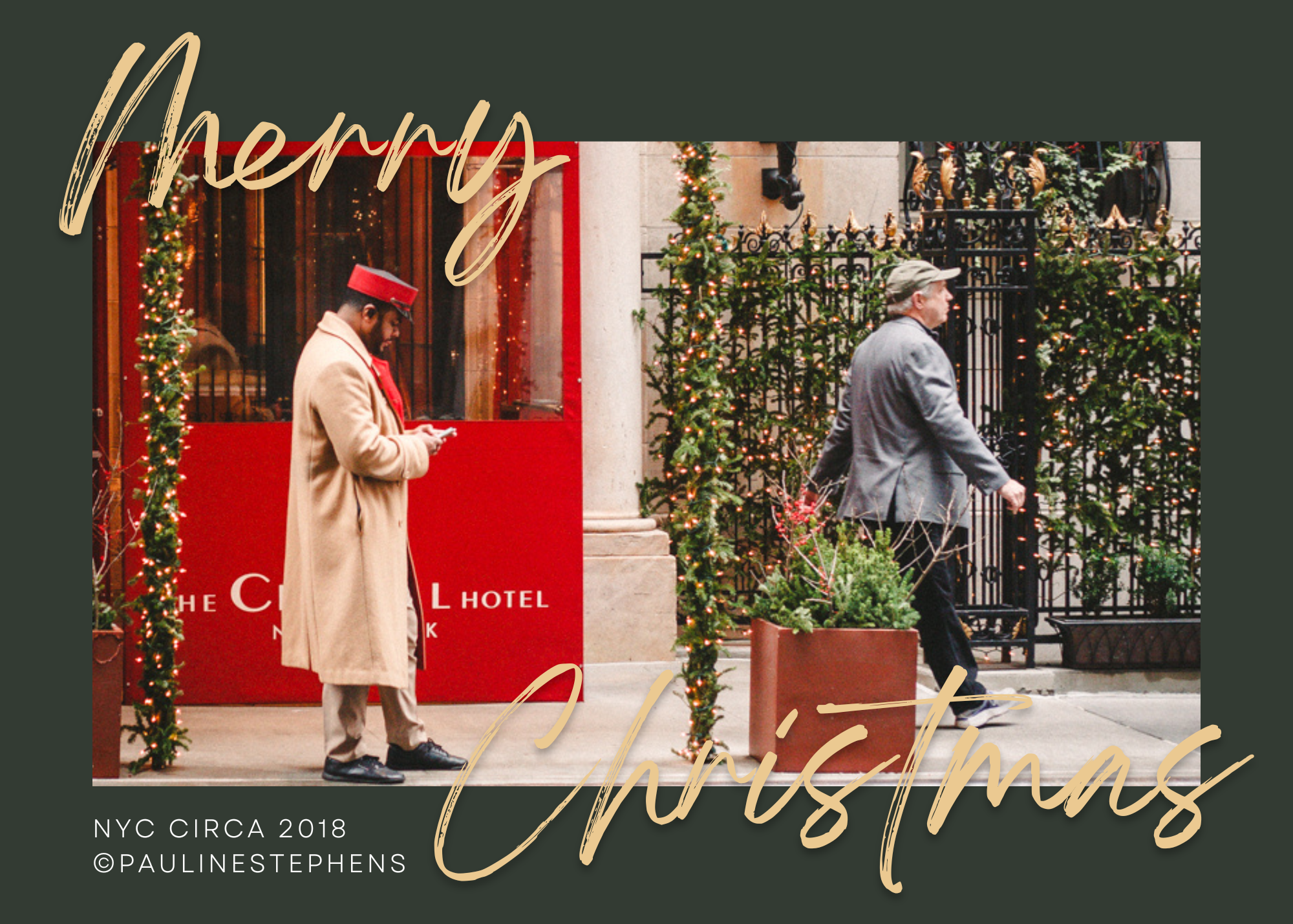 HOLIDAYS IN NYC
On a very cold evening in Bryant Park, it was just me, myself and I. I was leaving from my last class of the day and instead of going straight home, I decided to walk around and visit some of the small shops in the area.  I looked around to see if there was anything out of the ordinary that I could bring back to Virginia with me for my family and loyal clients.   I found a few things and it was nice to speak with creative business owners.  I always find it interesting to know how someone comes up with a business idea and how they honed in on their craft.  I think as a business person, I have always looked for ways to be innovative and find new ways to fuel my passion.  I also was led to enjoy the view of everyone on the ice skating rink. Everyone seemed so happy.  Its as if everyone knew each other as the rode by each other with laughter.  There were many people that stood out to me but one guy in particular caught my eye and I had to capture him in his suit. This wasn't any ordinary suit.  It was a bright red snowman suit and it look very couture like New York fashion icons typically stroll the streets.  He was fun to shoot and by far a great skater.  I am happy I had my camera to document this day in 2018.  Looking back, everything about this day was beautiful.  Now I know why I felt how I did that cold day in NYC.  I wanted to share the joy of the day with the people I loved the most.  It is a great reminder of the beauty and joy that is always present even in the midst of change.  You may have to go through changes but know that you are prepared to walk into a new experience.  The road my seem challenging with hills and valleys. It may even feel like you are on the road alone but the road has to lead you to a place that you are well equipped to be in.