When it's hot outside, you are probably looking for something to cool you down. In this blog post, we will discuss 5 health benefits of watermelon juice you will get all summer! According to Ayurveda, summer is Pitta season, and eating watermelon or drinking watermelon juice is a good way to balance the fiery side of yourself.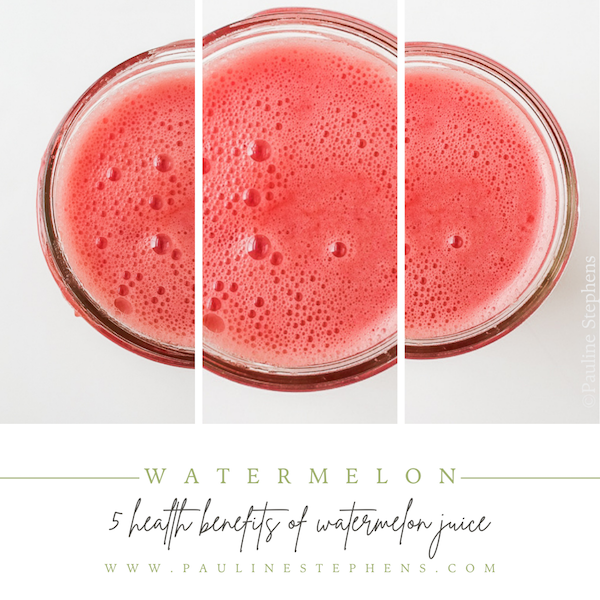 BENEFITS OF WATERMELON JUICE ACCORDING TO AYURVEDA
Pitta Dosha consists of fire and water elements. The summer months bring on more of these elements and to balance the hot nature of Pitta, it is recommended that you consume less heat-inducing foods and less heat-inducing activities. Finding a cool and shaded area while outside, taking cool baths or showers, and drinking cooling drinks or foods, are just some ways to keep your Pitta Dosha in check. 
The health system of Ayurveda suggests that consuming the right foods can help balance the metabolic characteristics of the body. If you are familiar with your dosha and you're not Pitta dominant, you will still benefit from the cooling nature of watermelon juice. Whether you have taken an online quiz or consulted with me for an accurate way to determine your dosha; Pitta, Kapha, or Vata individuals will benefit from consuming watermelon juice now. With only forty-six (46) calories per cup, the cooling nature of this great fruit juice will pacify the heat within you. 
To find the right foods for your body and to determine your dosha, you can book a session via Dosha Assignment and Pulse Analysis in our shop page. 
WATERMELON JUICE IS SUMMER'S BLESSING
Coined as "Summer's Blessing", watermelons have been the sought-after fruit for generations during the hot summer months. You will find various households indulging in this sweet fruit from sun up to sun down. The young and aged will both sit around and commune with watermelon in cups, bowls, or straight off the table. 
The history of watermelon dates back to the Kalahari desert region of Africa. The facts of how it came to the Americas are not well known but I wonder if it's the same way African slave women brought over rice. Did you know that when African women knew they were going to be enslaved and taken from their land, they braided rice in their hair to preserve their culture? I could see this being the case for watermelon seeds as well. Well, have to thank the indigenous people of Native American land for up-keeping watermelons too. We have had a bountiful harvest of watermelons to enjoy all these years.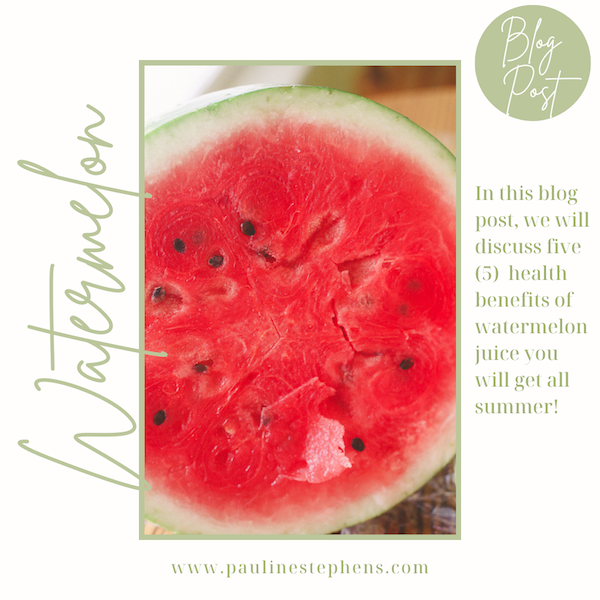 BENEFITS OF WATERMELON SEEDS
I am sure many Native Americans and Africans knew the benefits of securing watermelon seeds. I recently saw a video of a famous actor who bought a watermelon from South Carolina to California. After he ate the watermelon and made juice, he saved the seeds to plant his own in California. 
There are several benefits of watermelon seeds. You can grind watermelon seeds in a mortar or spice grinder for a good topping on your favorite dish. Ground watermelon seeds have a nutty flavor and can be sprinkled on top of soups, vegetables, and salads. Another benefit of watermelon seeds is being able to have an allergy-free nut butter or milk. You would grind the seeds until they are smooth and creamy. Add salt or sweetener to improve the taste.  
Swapping out unhealthy snacks and increasing the nutritional value are other benefits of watermelon seeds. Watermelon seeds are a good source of protein, healthy fats, magnesium, iron, fiber, and zinc.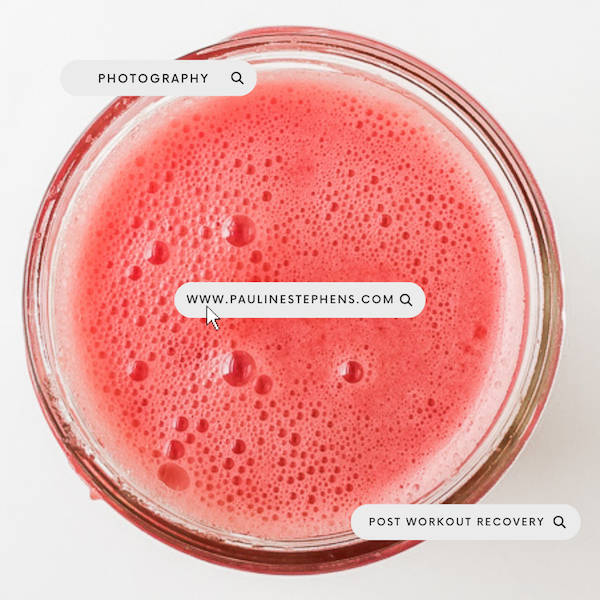 BENEFITS OF WATERMELON JUICE FOR POST-WORKOUT RECOVERY
I workout several times a week and my go-to workout recovery drink this summer has been watermelon juice. I know there are post-workout smoothies, bars, and powders on the market but I always opt for watermelon juice instead. The juice in my opinion is clean, refreshing and doesn't contain any harmful additives. Another benefit of watermelon juice is that it doesn't have any side effects like restlessness and raised blood pressure.  
After a long outdoor run, I am usually sweaty which results in the loss of electrolytes. My muscles get sore, my energy is zapped and I need to bring water back into my body immediately to recover. The natural sugars and carbohydrates from watermelon juice give you a quick energy boost. Also, Vitamin C and lycopene in watermelon juice help fight oxidative stress from intense exercises and reduce inflammation. The hydration that watermelon juice brings over drinking bottled water is unmatched. I instantly feel replenished from one 8-ounce cup of watermelon juice.  
BENEFITS OF WATERMELON JUICE TO PREVENT SUMMER HEAT STROKE
Another benefit of eating watermelon and drinking watermelon juice all summer is the ability to minimize the risk of heat-related illnesses such as heat stroke. Watermelon contains an antioxidant called Lycopene which combats oxidative stress which is typically caused by excessive heat exposure.  
Along with the consumption of watermelon and its hydrating juice, wearing thin clothing, avoiding staying in the heat too long, and knowing when to pause during strenuous exercises will help combat heat-related illnesses. Replenishing your body's fluid level is very important during the summer months. Watermelon can add potassium to your body which normally becomes depleted as you sweat. Even if you are not a physically active person, keeping your potassium levels in check should be important, especially during the summer.  
If you have symptoms of nausea, dizziness, headache, rapid heartbeat, or high body temperature; this may be a sign of a stroke. You should seek immediate medical attention.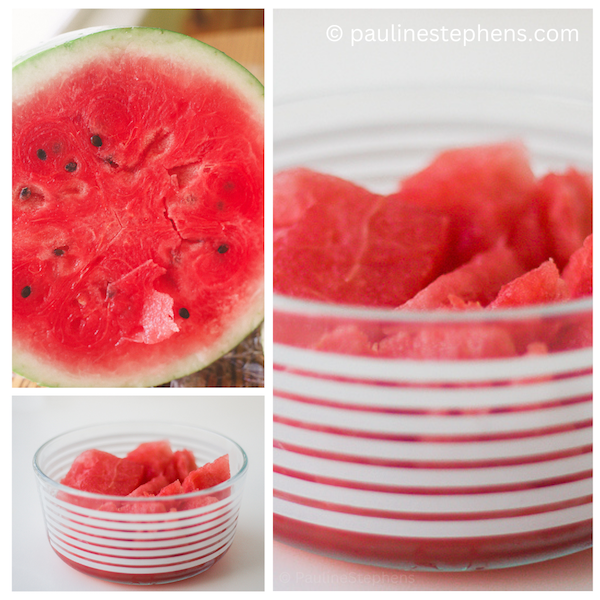 BENEFITS OF WATERMELON SEXUALLY
There are benefits of watermelon sexually. Sexually active men experiencing erectile dysfunction can benefit from drinking watermelon juice. Watermelon consists of the amino acid arginine which boosts the libido in men. The amino acid citrulline that is in watermelon juice is converted into arginine. One of arginine's roles is to produce nitric oxide. Nitric oxide is responsible for helping relax and widen blood vessels which then leads to improved blood flow. For men, this is important for not only peek exercise performance and cardiovascular health but erectile function too.  
Nitric oxide promotes the relaxation of the smooth muscles in the blood vessels of a male reproductive organ. Proper blood flow to the male organ is crucial for maintaining and achieving an erection. So, go out and pick a healthy seeded watermelon if you find yourself needing a natural remedy. And as always, seek the professional support of your medical practitioner. 
The same conditions apply to women who are seeking to maintain and improve their reproductive organs. Women who drink watermelon juice will improve their overall health including balancing their pH levels, improving their libido, helping prevent vaginal infection.
BENEFITS OF WATERMELON JUICE FOR EYE HEALTH
Watermelon juice nourishes and supports eye health. One watermelon contains beta carotene and when consumed is converted into Vitamin A in the body. Vitamin A is an essential vitamin for the health of your eyes. It's necessary for the proper function of the layer at the back of the eyes that is responsible for capturing and processing visuals before sending them to your brain. This is known as the retina.  
Think of the retina in your eyes as the digital or film camera we all use to capture moments of our lives. The camera sensor in this case would be the retina. The camera sensor captures light and converts it into an electrical signal. Further explaining, the retina in my eyes converted light into electrical signals that were sent to my brain to process the colors and shapes of the watermelon that I photographed for this blog post.  
Similar to the retina in the eye, the sensor in the camera lens is located in the back. The retina is sensitive to light and so is the camera's sensor which consists of various photosensitive pixels. The pixels are sensitive to light and will record the color and intensity of the light. When light enters the camera through the lens, it reaches the camera sensor and each pixel records the light information. You will ultimately get a digital presentation of this information.  
Eating a healthy diet, and consulting with your optometrist can help with maintaining good eye health.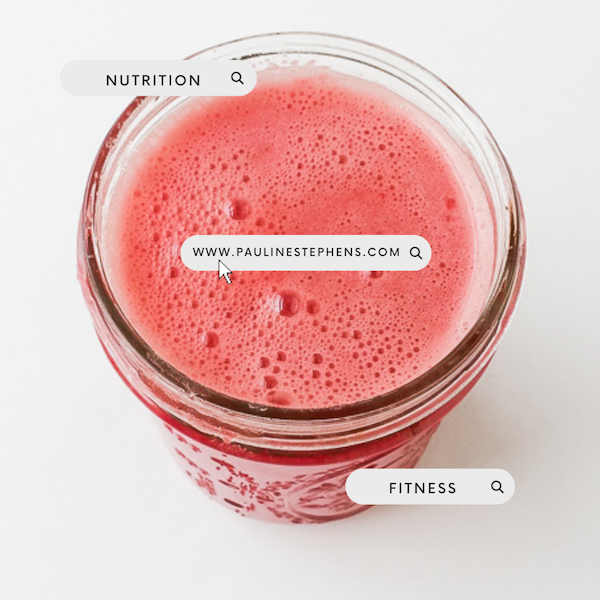 BENEFITS OF WATERMELON JUICE FOR A HEALTHY KIDNEY
Eating watermelon and drinking watermelon juice promotes a healthy kidney since it helps increase the filtration of blood in the kidneys. Most people will mention that after eating a watermelon they have to urinate and in this case, it acts as a diuretic as sodium, potassium, and other ions are eliminated through the urine.  
Since watermelon is not technically or medically considered a diuretic, it does act as a mild diuretic agent. I can see how others have used watermelon as a therapy to manage high blood pressure, fluid retention, and certain kidney disorders.  
Ease the strain on your kidneys with a healthy consumption of watermelon juice. Help it do its job with ease over the summer while watermelon is in season. And consider freezing some to last a few weeks after it goes out of season. Further in this post, you will find easy and simple recipes to enjoy made by me!  
AUGUST 3 IS NATIONAL WATERMELON DAY
Are you aware that there is a national watermelon day? I wasn't aware until visiting the southern states of the United States. Yes, every year on August 3rd, watermelon is celebrated and you'll find festivals where people gather to consume as much watermelon and items as possible.  
A few years ago, when I had a storefront for my wedding and event planning business, the area association had an annual watermelon festival. I wasn't aware that this was I thing but I had to participate since my store was on the main street. It was pretty nice seeing people from afar gather and celebrate. I can remember the day when I scrambled to find anything watermelon that someone could use for an elegant event. We had napkins, plates, and tablecloths. I laughed now because it was my introduction to a southern festivity but it was a good day.  You can catch the next Carytown Watermelon Festival in Richmond, Virginia every year in August, Herbs Family Farm Watermelon Festival in Long Island, New York and The California Watermelon Festival.
EASY AND QUICK WATERMELON RECIPE IDEAS:
Watermelon Cucumber Smoothie – A cucumber is very cooling to the body and having this with watermelon is a good combination. Add cut watermelon and cucumbers to a blender until smooth.  

Watermelon Ice Cubes – Blend or juice your watermelon. Add it to an ice cube tray and freeze. 

Watermelon Popsicles – Blend or juice your watermelon. Add the juice to a popsicle

Watermelon Salad – In a nice plate or bowl, add sliced cucumber, sliced avocados, mint leaves, and balsamic glaze.

Watermelon Juice Caribbean Style – In a cup add watermelon juice, lemon or lime juice, sugar, and hibiscus juice, stir and enjoy
TO PURCHASE OTHER RECIPES WITH FULL INSTRUCTIONS VISIT OUR SHOP WITH THE LINKS BELOW 
Authentic Jamaican Jerk Jackfruit
Creamy And Flavorful Tahini To Elevate Your Meals
Creamy Vegan Bell Pepper Cheese Sauce
Delicious Polenta Cakes And Roasted Vegetable Kale Salad
I hope you enjoyed this week's version of Pauline Stephens' Blog Post! Leave a comment or share your thoughts in the comment section below.  
Disclaimer: www.paulinestephens.com contains original content under the fair use principles and is not authorized for use by the creator of this blog post (Pauline Stephens).  Media and Blog platforms, please email for licensing and credit.  Thank you.